Garmin Vivoactive 4
Garmin Vivoactive 4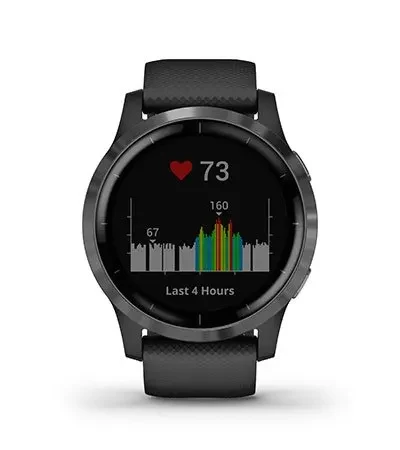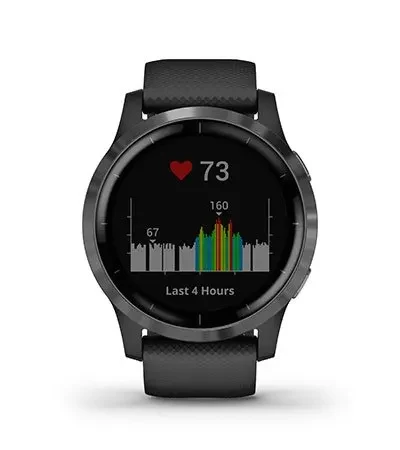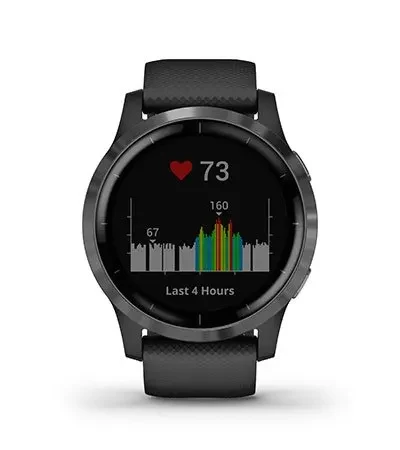 Display

:

1.3" (33.0 mm) diameter

Water Resistant Rating

:

10 ATM

Memory

:

200 hours of activity data
The Garmin vívoactive 4 is a versatile smartwatch designed to empower individuals with an active lifestyle. Whether you're an avid runner, a fitness enthusiast, or simply looking to stay connected, this watch offers a comprehensive range of features to support your health, fitness, and daily life.
One of the key highlights of the vívoactive 4 is its built-in GPS functionality. This allows you to accurately track your outdoor activities, whether it's running, cycling, or hiking. You can explore new routes, monitor your distance, pace, and elevation, and even receive real-time coaching to help you reach your fitness goals.
In addition to GPS tracking, the vívoactive 4 offers a variety of advanced health monitoring features. From wrist-based heart rate monitoring to Pulse Ox sensors for monitoring blood oxygen levels, this watch provides valuable insights into your overall well-being. You can track your stress levels, monitor your sleep patterns, and even receive reminders to move when you've been inactive for too long.
The vívoactive 4 is not just about fitness tracking—it's also a smart companion for your everyday life. With smart notifications, you can receive calls, texts, and app alerts directly on your wrist, keeping you connected without needing to reach for your phone. You can also download and store music on your watch, making it easy to enjoy your favorite tunes during workouts or when you're on the go.
The watch's vibrant and customizable touchscreen display provides an intuitive and user-friendly interface. It offers a range of watch faces, widgets, and apps to personalize your experience and access the information that matters most to you. And with a battery life of up to 8 days in smartwatch mode, you can rely on the vívoactive 4 to keep up with your active lifestyle.
The vívoactive 4 is not just a fitness tracker or a smartwatch—it's a versatile companion that seamlessly integrates into your daily routine. It empowers you to take control of your fitness goals, stay connected, and live a healthier and more active life. With its sleek design, advanced features, and long battery life, the Garmin vívoactive 4 is the perfect companion for individuals who prioritize their well-being and want to make the most out of every day. Strap on the vívoactive 4 and let it be your guide to a more active and connected lifestyle.
Specs
General
| | |
| --- | --- |
| Model | Vivoactive 4 |
| Release Date | September 2019 |
| Status | Available |
| Memory | 200 hours of activity data |
Design
Body
Corning® Gorilla® Glass 3

stainless steel


Color
Slate Stainless Steel Bezel with Black Case and Silicone Band
Silver Stainless Steel Bezel with Shadow Gray Case and Silicone Band

WEIGHT
50.5 g


Dimension

Dimension refers to the measurements or size of an object, typically including length, width, and height, that define its physical extent in space.

45.1 x 45.1 x 12.8 mm


WATER RATING
10 ATM

Display
Screen Size
1.3" (33.0 mm) diameter

DISPLAY TYPE
sunlight-visible, transflective memory-in-pixel (MIP)

Resolution

Screen resolution refers to the number of pixels displayed on a screen, determining the level of detail and clarity of images and text.

260 x 260 pixels

Battery
BATTERY SAVER

CHARGING METHOD

Garmin proprietary plug charger

Battery Life
Smartwatch mode: Up to 8 days
GPS mode with music: Up to 6 hours
GPS mode without music: Up to 18 hours
App Support
| | |
| --- | --- |
| ON-SCREEN WORKOUT ANIMATIONS | |
| ON-SCREEN WORKOUT MUSCLE MAPS | |
| PAIRS WITH GARMIN CONNECT MOBILE | |
| PAIRS WITH GARMIN GOLF APP | |
Fitness Tracking
| | |
| --- | --- |
| HIIT WORKOUTS | |
| LIVETRACK | |
| PILATES WORKOUTS | |
| YOGA WORKOUTS | |
| STEP COUNTER | |
| Sleep Score and Insight | |
| BASIC REST TIMER (UP FROM 0) (POOL SWIM ONLY) | |
| CALORIES BURNED | |
| CARDIO WORKOUTS | |
| Fitness Age | |
| FLOORS CLIMBED | |
Sensors
GPS

The GPS (Global Positioning System) function in a watch utilizes satellite technology to accurately determine and track the wearer's precise location and movement. It allows the watch to provide real-time location information, navigation guidance, and distance tracking during outdoor activities. When the GPS function is enabled, the watch communicates with multiple satellites to triangulate the user's position. This information is then used to display the current latitude and longitude coordinates, as well as provide mapping and navigation features. With GPS functionality, users can track their routes, measure distances, and monitor their speed or pace during activities such as running, hiking, cycling, or other outdoor sports. The watch can also display a map or route overlay, allowing users to navigate through unfamiliar areas or follow pre-planned routes. In addition to location tracking, GPS-enabled watches may offer features like waypoints, where users can mark specific locations for future reference or return. Some watches also integrate with smartphone apps or online platforms, allowing users to sync and analyze their GPS data, view activity summaries, and share their accomplishments with others. The GPS function in a watch provides valuable information and enhances outdoor experiences, offering precise positioning, navigation assistance, and activity tracking capabilities for users engaged in various outdoor activities.

GYROSCOPE

With a gyroscope, a smartwatch can offer various features and functionalities. It can accurately track and measure the watch's movement, enabling precise gesture recognition and motion-based controls. For example, the gyroscope can detect wrist gestures like flicking or rotating, allowing users to navigate through menus or control certain functions on the smartwatch without touching the screen. The gyroscope function also enhances the accuracy of fitness tracking and activity monitoring. It can detect different types of movements, such as walking, running, or cycling, and provide more detailed data about the watch's orientation and movement patterns. This information can be used to calculate step counts, distance traveled, calories burned, and other activity metrics. Moreover, the gyroscope function can be useful in augmented reality (AR) applications. It enables the smartwatch to sense and respond to the user's movements, enhancing the immersive experience in AR games, navigation, or other interactive applications. Overall, the gyroscope function adds another dimension of motion sensing to the smartwatch, enabling more precise tracking, control, and interaction capabilities.

ACCELEROMETER

With an accelerometer, a smartwatch can provide a range of useful features and functionalities. It enables the detection of various activities and gestures, such as walking, running, cycling, or even more specific actions like shaking or tapping the watch. This information is valuable for fitness tracking, step counting, distance measurement, and calorie estimation. The accelerometer function also plays a crucial role in screen orientation detection. It allows the smartwatch to automatically adjust the display orientation based on how the user is wearing or positioning the watch, ensuring that the information is always presented in the correct orientation. Additionally, the accelerometer can contribute to fall detection and safety features. By detecting sudden changes in acceleration, the smartwatch can analyze if the wearer has experienced a fall and potentially initiate an alert or emergency response. Furthermore, the accelerometer function is often used in interactive games and applications, allowing users to control actions or navigate through interfaces by tilting or shaking the smartwatch. In summary, the accelerometer function in a smartwatch enables motion detection, activity tracking, screen orientation adjustment, fall detection, and interactive control, enhancing the overall user experience and functionality of the device.

COMPASS

With the compass function, a smartwatch can display a compass needle or a digital compass reading, indicating the cardinal directions (north, south, east, west) or the user's precise heading. This feature is particularly useful for outdoor activities such as hiking, camping, or navigation in unfamiliar areas. The compass function in a smartwatch can work in conjunction with other features like GPS to provide more accurate and reliable directional information. It can help users orient themselves, find their way, and navigate along a specific route or towards a designated point of interest.

GALILEO

GALILEO is the European Union's global satellite navigation system, similar to GPS and GLONASS. With GALILEO support, a smartwatch can access a larger number of satellites, which enhances positioning accuracy and provides more reliable navigation and tracking capabilities. The GALILEO function enables the smartwatch to offer precise location information, accurate route guidance, and improved performance in challenging environments. It allows users to engage in outdoor activities, track their fitness, and navigate confidently, taking advantage of the benefits of GALILEO's global coverage and increased positioning accuracy.

GLONASS

The GLONASS function in a smartwatch enables it to receive signals from GLONASS satellites, along with other satellite systems like GPS, Galileo, or BeiDou. This functionality enhances the watch's positioning accuracy and allows for precise navigation, tracking, and location-based services. With GLONASS support, the smartwatch can provide real-time location information, route guidance, and activity tracking, making it ideal for outdoor activities, fitness tracking, and navigation in challenging environments.

BAROMETRIC ALTIMETER

With a barometric altimeter, a smartwatch can offer features such as altitude tracking, elevation gain/loss monitoring, and the ability to display current altitude during outdoor activities. It allows hikers, climbers, and outdoor enthusiasts to have a reliable and convenient tool for measuring their ascent or descent. The barometric altimeter function can also enhance other features of the smartwatch, such as GPS tracking and fitness tracking. By combining altitude data with GPS positioning, the smartwatch can provide more accurate distance calculations, pace tracking, and performance analysis for activities like hiking, trail running, or skiing.

Abnormal Heart Rate Alert

AMBIENT LIGHT SENSOR

With an ambient light sensor, a smartwatch can provide several advantages and features. It automatically adjusts the screen brightness to match the ambient lighting conditions. In bright environments, the display brightness is increased to ensure clear visibility, while in darker settings, it decreases to prevent the screen from being too bright or causing discomfort to the eyes. By dynamically adjusting the display brightness, the ambient light sensor helps optimize power consumption. It prevents unnecessary battery drain by reducing the display brightness in low-light situations, conserving energy and extending the smartwatch's battery life. The ambient light sensor also contributes to a better user experience. It ensures that the smartwatch display is always easy to read, regardless of the lighting conditions. This is particularly beneficial for outdoor activities, where the lighting conditions can vary significantly throughout the day. Additionally, the ambient light sensor can be utilized for automatic sleep tracking and smart sleep features. It can detect changes in ambient light during sleep, assisting in analyzing sleep patterns and providing insights into sleep quality.

GARMIN ELEVATE WRIST HEART RATE MONITOR

PULSE OX BLOOD OXYGEN SATURATION MONITOR

With a Pulse Ox monitor, a watch can provide users with insights into their blood oxygen levels. It measures the percentage of oxygen-saturated hemoglobin in the blood, which can be an essential indicator of overall health and wellness. Monitoring SpO2 levels can help detect potential respiratory issues, assess oxygenation during physical activities or at high altitudes, and provide general awareness of blood oxygen levels. The Pulse Ox function in a watch can be particularly useful for individuals with respiratory conditions like asthma or COPD, as well as for athletes or individuals engaging in high-intensity workouts or altitude-related activities. It allows users to track their oxygen levels in real-time and make informed decisions regarding their activities or seek medical attention if necessary.
Voice Assistant
| | |
| --- | --- |
| VOICE ASSISTANT SUPPORT | |
| ASSISTANCE | |
| BLUETOOTH PHONE CALLING | |
Notifications
| | |
| --- | --- |
| SMART NOTIFICATIONS | |
| CONTROLS SMARTPHONE MUSIC | |
| FIND MY PHONE | |
| FIND MY WATCH | |
Health Monitoring
Women's Health

The women's health function in a watch is a specialized feature designed to cater to the unique health needs and experiences of women. It includes various tools and tracking capabilities related to menstrual cycles, fertility, and overall reproductive health. With this function, women can track and log their menstrual cycles, including the start and end dates, cycle length, and symptoms or patterns associated with each phase. The watch can provide predictions for upcoming periods and fertility windows based on the recorded data. Additionally, the women's health function may offer features such as ovulation tracking, which helps women identify their most fertile days for family planning or contraception purposes. It may also provide insights into hormonal changes, mood fluctuations, and other health factors specific to women's reproductive cycles. By leveraging the women's health function, women can gain a better understanding of their menstrual and reproductive health patterns. This information can be valuable for family planning, managing fertility, tracking symptoms, and communicating with healthcare professionals about any concerns or irregularities.

Wrist-Base Heart Rate

The wrist-based heart rate utilizes optical sensors on the underside of the device to continuously monitor the user's heart rate directly from their wrist. This function allows the smartwatch to track and display real-time heart rate data during various activities, including workouts, rest periods, and everyday tasks. It provides users with insights into their heart rate zones, helps them monitor their exercise intensity, and enables them to make informed decisions about their fitness and health. Wrist-based heart rate monitoring in a smartwatch eliminates the need for additional accessories like chest straps, providing convenience and ease of use for users seeking to track and optimize their cardiovascular performance.

Respiration Rate

The respiration rate function in a watch measures and tracks the user's breathing rate. It uses sensors and algorithms to detect the rise and fall of the user's chest or other indicators of breathing to calculate the number of breaths taken per minute. This function provides insights into breathing patterns, can assist in managing stress, and promote relaxation. The respiration rate data is typically displayed on the watch or synced to a companion app for tracking and analysis. It can be a helpful feature for individuals seeking to monitor their respiratory health or practice breathing exercises for well-being.

Yes

Relaxation Breathing Timer

Hydration

The hydration function in a watch helps users track and monitor their hydration levels throughout the day. It reminds users to drink water regularly and stay adequately hydrated. To utilize this function, users typically input their personal hydration goals or water intake targets into the watch or a connected app. The watch then provides reminders or alerts at specified intervals to encourage users to drink water and meet their hydration goals. By monitoring hydration levels, users can maintain optimal water intake and prevent dehydration, which can negatively impact overall health and performance. The hydration function in a watch serves as a helpful reminder and motivator to prioritize and track water consumption throughout the day.
Cycling
| | |
| --- | --- |
| AVAILABLE CYCLING PROFILES | |
| ALERTS (TRIGGERS ALARM WHEN YOU REACH GOALS INCLUDING TIME, DISTANCE, HEART RATE OR CALORIES) | |
| BIKE LAP AND LAP MAXIMUM POWER (WITH POWER SENSOR) | |
| RACE AN ACTIVITY | |
| POWER CURVE AND % FTP WORKOUTS | |
| FTP (FUNCTIONAL THRESHOLD POWER) | |
| COMPATIBLE WITH VECTOR™ AND RALLY™ (POWER METERS) | |
| POWER METER COMPATIBLE | |
| COMPATIBLE WITH VARIA™ RADAR (REAR-FACING RADAR) | |
| COMPATIBLE WITH VARIA™ LIGHTS | |
| SPEED AND CADENCE SENSOR SUPPORT (W/SENSOR) | |
Swimming Features
| | |
| --- | --- |
| AVAILABLE SWIM PROFILES | |
| POOL SWIM METRICS (LENGTHS, DISTANCE, PACE, STROKE COUNT, SWIM EFFICIENCY (SWOLF), CALORIES) | |
| STROKE TYPE DETECTION (FREESTYLE, BACKSTROKE, BREASTSTROKE, BUTTERFLY) (POOL SWIM ONLY) | |
| BASIC REST TIMER (UP FROM 0) (POOL SWIM ONLY) | |
| TIME AND DISTANCE ALERTS | |
| UNDERWATER WRIST-BASED HEART RATE | |
| OPEN-WATER SWIM METRICS (DISTANCE, PACE, STROKE COUNT/RATE, STROKE DISTANCE, SWIM EFFICIENCY (SWOLF), CALORIES) | |
| DRILL LOGGING (POOL SWIM ONLY) | |
| BASIC REST TIMER (UP FROM 0) (POOL SWIM ONLY) | |
| AUTO REST (POOL SWIM ONLY) | |
| TIME AND DISTANCE ALERTS | |
| PACING ALERTS (POOL SWIM ONLY) | |
| COUNTDOWN START (POOL SWIM ONLY) | |
| POOL SWIM WORKOUTS | |
| CRITICAL SWIM SPEED | |
| UNDERWATER WRIST-BASED HEART RATE | |
| HEART RATE FROM EXTERNAL HRM (REAL-TIME DURING RESTS, INTERVAL AND SESSION STATS DURING RESTS, AND AUTOMATIC HEART RATE DOWNLOAD POST-SWIM) | |
Golfing Features
| | |
| --- | --- |
| YARDAGE TO F/M/B (DISTANCE TO FRONT, MIDDLE AND BACK OF GREEN) | |
| DIGITAL SCORECARD | |
| GREEN VIEW WITH MANUAL PIN POSITION | |
| HAZARDS AND COURSE TARGETS | |
| PINPOINTER | |
| ROUND TIMER/ODOMETER | |
| STAT TRACKING (STROKES, PUTTS PER ROUND, GREENS AND FAIRWAYS HIT) | |
| TOURNAMENT LEGAL | |
Running
| | |
| --- | --- |
| AVAILABLE RUN PROFILES | |
| FOOT POD CAPABLE | |
| GPS-BASED DISTANCE, TIME AND PACE | |
| GRADE-ADJUSTED PACE | |
| GROUND CONTACT TIME AND BALANCE | |
| LACTATE THRESHOLD | |
| PERFORMANCE CONDITION | |
| ROUND TIMER/ODOMETER | |
| RUN WORKOUTS | |
| RUN/WALK/STAND DETECTION | |
| RUNNING POWER | |
| STRIDE LENGTH (REAL TIME) | |
| TRAIL RUN AUTO CLIMB | |
| VERTICAL OSCILLATION AND RATIO | |
Reviews